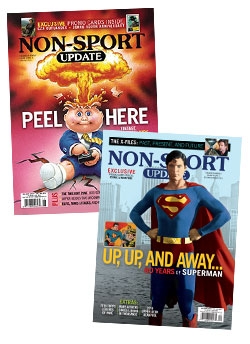 Save 80% on 2018 Beckett Non-Sport Almanac with 1-year NSU subscription
A bi-monthly magazine for non-sport trading card collectors.
Articles on new and vintage card releases.
Includes features on the latest trading card releases, promotional cards, online happenings, and vintage cards.
Features a 32-page price guide listing values for the most popular card series from the 1880s through today.
Exciting contests, a schedule of card releases, and much more.
Free Shipping within USA.
International Shipping Extra
Magazine Subscription
6 Issues / Year
Cover Price: $70.89
Offer Price: $34.94
You Save 51%
Buy a 1-year NSU subscription and get 80% off the 2018 Beckett Non-Sport Almanac!
2018 Beckett Non-Sport Almanac includes:
More than 200,000 prices across 13000+ sets of non-sport cards

Special sections fir DC/Marvel, Star Wars, and others

How-To-use guide and glossary

Key listings

Star Trek, Bench Warme, Garbage Pail, Wacky Packages, and more!