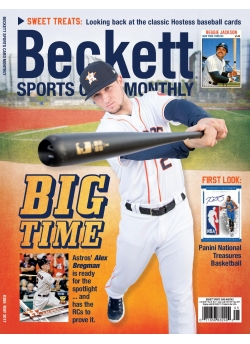 Beckett Sports Card Monthly 386 May 2017
The Price Guide of more than 100 pages filled with current pricing for the most popular collectibles in 13 different categories.
The Hot List featuring the top 20 cards in six different card markets.
Up-to-date values for the most commonly collected signatures.
Current pricing based on graded card conditions.
Reviews and previews of the newest products.
A one-page tribute to hardcore collectors.
Regular Price: $9.99
Price: $7.99
You Save 20%
Beckett Sports Card Monthly May 2017
Beckett Sports Card Monthly is designed for novice collectors and hobbyists looking to catch up on the trading card world. From sports art and autographs to auction houses and movie memorabilia, each issue revolves around a theme important to the hobby as a whole.
Broad-appealing editorial and pricing content in this monthly publication spans across all four major sports (baseball, football, hockey, and basketball) and also includes an array of other collecting areas. BSCM is a rare, one-stop resource for racing, soccer, golf, wrestling, MMA, and non-sport card collectors looking to find information on their less-mainstream pastimes.
What to expect in each issue:
The Price Guide:

More than 100 pages filled with current pricing for the most popular collectibles in 13 different categories

The Hot List:

A fluctuating guide, complete with pricing and images for the top 20 cards in six different card markets

Market Watch:

Numbers-driven analysis on the key players and products to collect

Feature stories:

Editorial and informational coverage of various trends and themes throughout the hobby

Autograph Price Guides:

Up-to-date values for the most commonly collected signatures