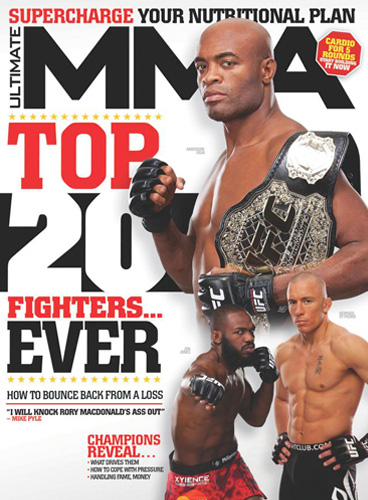 Ultimate MMA (Mixed Martial Arts)
What's new & hot in the world of mixed martial arts
Ultimate Mma (mixed Martial Arts) Price Guide of more than 200 pages of values for past and current releases.
The Hot List featuring the top 20 ultimate mma (mixed martial arts) trading cards in the market
Articles on the latest trends and news in the hobby world
Reviews and previews of the newest products
A one-page tribute to hardcore collectors.
Free Shipping within USA.
International Shipping Extra
Magazine Subscription
10 Issues / Year

Ultimate MMA covers the entire world of mixed martial arts (MMA). In each and every issue of this full-color magazine, you'll get:
132-pages packed with sizzling interviews, features and profiles with the sport's biggest names
Instructional and lifestyle stories from your favorite fighters
Fight previews, rankings, training tips, techniques and nutritional advice
Product reviews
And much more!