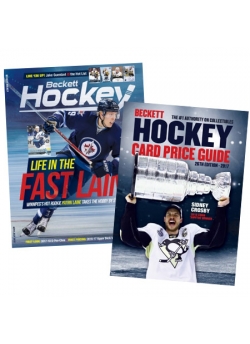 Beckett Hockey 1 Year Subscription + Beckett Hockey Card Price Guide Issue# 27
Hockey Price Guide of more than 130 pages of values for past and current releases.
The Hot List featuring the top 20 hockey trading cards in the market.
Articles on the latest trends and news in the hobby world.
Reviews and previews of the newest products.
A one-page tribute to hardcore collectors.
All the issues will be delivered polybagged if you opt for 1, 2 or 3-year Polybag subscription.
Free Shipping within USA.
International Shipping Extra
Magazine Subscription
12 Issues / Year
Cover Price: $154.80
Offer Price: $55.00
You Save 64%
Beckett Hockey 1 Year Subscription + Beckett Hockey Card Price Guide Issue# 27