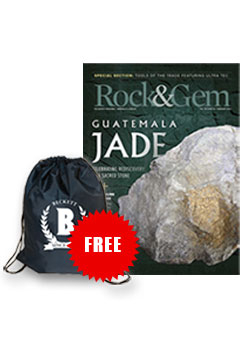 Get a Free Sling Bag with a 1-year Rock & Gem Subscription
Expert insights on lapidary techniques.
Topics on the science of minerals, and faceting.
Short and interesting articles, projects and puzzles for kids.
The go-to source for field trip destinations.
Guide to in-depth examinations of minerals and gem materials.
All the issues will be delivered polybagged if you opt for 1, 2 or 3-year Polybag subscription.
Free Shipping within USA.
International Shipping Extra
Magazine Subscription
12 Issues / Year
Cover Price: $71.88
Offer Price: $29.95
You Save 58%
Get a Free Sling Bag with a 1-year Rock & Gem Subscription