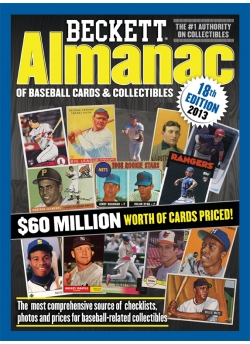 Beckett Baseball Almanac #18th Edition 2013
Pricing for more than 1.8 million items
Baseball collectibles pricing from 1867 to the present
Thousands of photos for easy, quick card identification
Set description and distribution information
Guide for beginners
Glossary of hobby terms and more!
Books will begin shipping July 15, 2013
A truly exhaustive compilation of checklists and prices for baseball cards and countless baseball related collectibles. More than one million total items priced. Includes virtually all baseball collectibles produced in the last century – even minor league and international cards. The most complete source of its kind, it's the ultimate reference tool for baseball collectors.
Cover Price $49.95