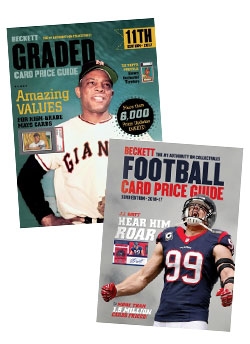 Graded Card Price Guide Issue# 11 2017 + Beckett Football Card Price Guide Issue #33
Regular Price: $69.90
Price: $48.93
You Save 30%
Graded Card Price Guide Issue# 11 2017
400+ pages of pricing for professionally graded sports & Magic the Gathering cards.
Historical sales data for scarce high-grade cards
Extensive vintage era coverage with full checklists
Listings in eight conditions for pre-1980 material
Easy to use columnar format
Beckett Football Card Price Guide Issue #33
Complete checklists and pricing for every important football card set from 1894 to early 2016
Hundreds of new sets added and more than 75,000 new cards priced in this edition.
Complete checklists for all included card sets.
Values for individual cards and complete sets developed from thorough market research.
Set description includes distinguishing features, key cards, distribution information - everything you need to become a football card expert!