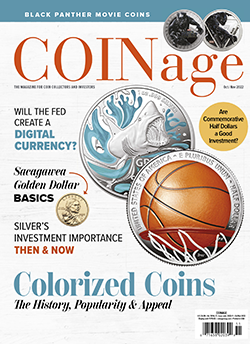 Subscribe to 1-year COINage print subscription and get another 1-year absolutely free at $24.95
Must have for the experienced and novice coin collectors.
Historical pieces about the people, places and events associated with COINage.
Insights from the hobby's leading authorities.
Updated price guide.
Informative and entertaining articles.
All the issues will be delivered polybagged if you opt for 1, 2 or 3-year Polybag subscription.
Free Shipping within USA.
International Shipping Extra
Magazine Subscription
12 Issues / Year
Cover Price: $71.88
Offer Price: $24.95
You Save 65%
Subscribe to 1-year COINage print subscription and get another 1-year absolutely free at $24.95