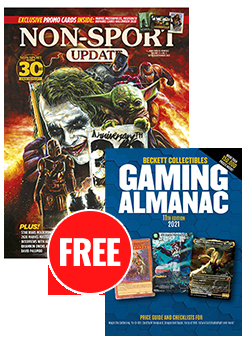 Free Beckett Gaming Almanac #10 with 1-year NSU Subscription
A bi-monthly magazine for non-sport trading card collectors.
Articles on new and vintage card releases.
Includes features on the latest trading card releases, promotional cards, online happenings, and vintage cards.
Features a 32-page price guide listing values for the most popular card series from the 1880s through today.
Exciting contests, a schedule of card releases, and much more.
Free Shipping within USA.
International Shipping Extra
Magazine Subscription
6 Issues / Year
Cover Price: $65.89
Offer Price: $32.95
You Save 50%
FREE 2020 Beckett Collectible Gaming Almanac #10 with purchase of a 1-year Non-Sport Update subscription.
Pay only $32.95 (inclusive of $5 shipping).