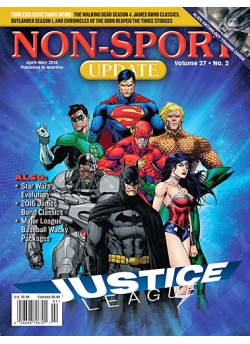 Non Sport Update - Justice League! April-May 2016
Regular Price: $5.99
Price: $4.79
You Save 20%
DC Comics Justice League! April-May 2016
Editorial: The UFOs Have Landed


...and, they are multiplying!

A League of Their Own


It's a bird! It's a plane! It's a whole lot of super heroes!

Heeeyyy Yabbbott!!


So, Who is on first?

Non-Sport Neighborhood: Meet Marc Simon


From trading cards to toothpaste tubes, here's a collector who dabbles.

Upper Deck Bursts Out with Alien Anthology


Are you ready for an Alien encounter?

Topps Takes a Swing at Major League Baseball


Play Ball!—Wacky style.

Where No Man (or Woman) Has Gone Before


Two NSU founders step away.