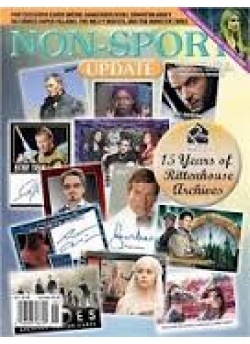 Non-Sport Update Volume 25, Number 6 (15 Years of Rittenhouse Archives)
Regular Price: $5.99
Price: $4.79
You Save 20%
Non-Sport Update Volume 25, Number 6 (15 Years of Rittenhouse Archives)
Editorial: Details Remain Sketchy


Our editor draws on past and present while you decide the future.

Rittenhouse Archives: 15 Years of Trading Card Excellence


Who better than Steve Charendoff to tell the story of Rittenhouse Archives' phenomenal success.

Witchy Women


The latest witches' brew from Breygent Marketing.

Beyond Non-Sports: The Column That Ruined Christmas


It's Humbug time again!

Shasbot Lives!


Robin Williams remembered on cards.

Hero With a Hood


NSU peeks under the hood for a look-see at this exciting new card series.