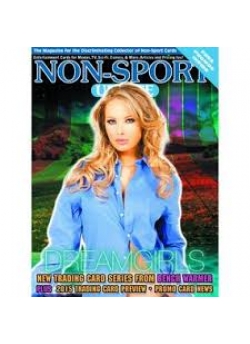 Non-Sport Update (Bench Warmer Dreamgirls) February-March 2015
Regular Price: $5.99
Price: $4.79
You Save 20%
Non-Sport Update Volume 26, Number 1 (Bench Warmer Dreamgirls)
Editorial: Digital Detox


Step away from the smartphone!

Dream a Little Dream of Me


Sweet dreams are made of this from Bench Warmer.

Non-Sport University: Collect Me Ishmael


Wait until you read this whale of a tale!

Preview 2015


There's much to glean from 2015 in our annual look ahead.

The Hobbit: The Desolation of Smaug


"I am fire, I am death, I am on cards"!

War!


The facts speak for themselves in this classic set from Dart Flipcards.

The Force Awakens—Two New Iconic Sets From Topps Lead The Invasion


Appreciating the animated side of Star Wars.

Topps Visionary Sy Berger Passes Away


Sy Berger will be missed but his name will live on.