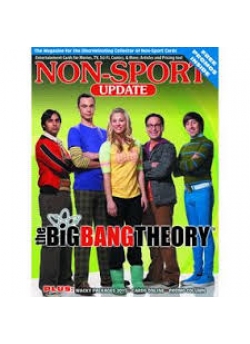 Non-Sport Update (The Big Bang Theory) June-July 2015
Regular Price: $5.99
Price: $4.79
You Save 20%
Non-Sport Update (The Big Bang Theory) June-July 2015
Editorial: Phasers Set to Stunned


NSU celebrates the long and prosperous life of actor Leonard Nimoy.

It All Began With a Bang


The bang gets bigger with these new cards from CZE.

Upper Deck Digs into the Past with Dinosaurs


Go time-tripping with this dino-mite set.

Shake, Rattle & Collect


Non-sports rocks around the clock with these tuneful treasures.

Occupation Anticipation


Topps' martians are back, only this time...they've won!

Non-Sport Spotlight: Knocking Them Out of the Parks


Can you build a new company on an old philosophy? RRParks says yes!