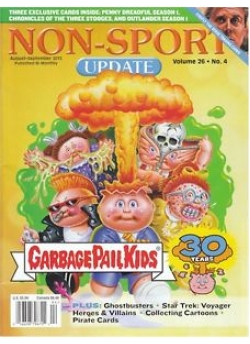 Non-Sport Update (Garbage Pail Kids 30th Ann.) August-September 2015
Regular Price: $5.99
Price: $4.79
You Save 20%
Non-Sport Update (Garbage Pail Kids 30th Ann.) August-September 2015
Editorial: Fish Tales


These are the big ones that didn't get away.

Topps Dishes Up 30 Years of Garbage


The little dirty birdies turn thirty.

Something Strange in the Neighborhood


I ain't afraid of no ghost.

Beyond Non-Sport: TOON TIME!


Play me a toon, that is, if you can find 'em.

Fantastic Voyager


The Good, the Bad, the Trek.

Son of a Biscuit Eater!


Avast me hearties, ye need to batten down the hatches for this one.

Bags Unlimited


For all your storage needs, it's in the bag.

GPK Creators


Talking trash with Brent Engstrom and Jeff Zapata.