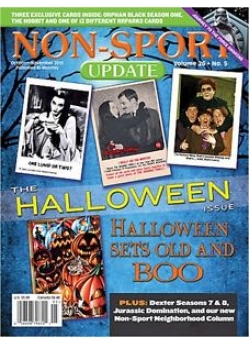 Non-Sport Update (The Halloween Issue) October-November 2015
Regular Price: $5.99
Price: $4.79
You Save 20%
Non-Sport Update (The Halloween Issue) October-November 2015
Editorial: It's a Beautiful Day in the Neighborhood


Won't you be my neighbor?

Monsters, Inc.


You rang, Mr. Munster?

Halloween Hijinks


It's all nyuks & gags in the RRParks graveyard, PLUS the latest scares from Perna Studios.

Non-Sport Neighborhood: Meet Kevin Worboys


It's "Hammer" Time! Take a trip with the Brit known as "Hammer" on NSU's Card Talk via NSU's new column.

The Journey to the Journey


It's Star Wars everything as Topps prepares for a galactic event.

Cliff Tooker, Personal and NSU Friend, Has Passed Away


Celebrating a life well spent.

A Bloody Pattern of Excellence


Dexter may be done but Breygent is still killing it with Seasons 7 & 8.