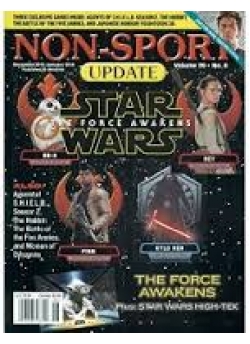 Non-Sport Update (The Force Awakens) December 2015-January 2016
Regular Price: $5.99
Price: $4.79
You Save 20%
Non-Sport Update (The Force Awakens) December 2015-January 2016
Editorial: Loving Bond


You know the name. You know the number. You know the cards.

Awaken, The Force Has


The Journey is over, The Force is here!

The Final Battle?


Is this really the last trip to the Shire?

Look WHO's Here


The Doctor sets the TARDIS to finally land in America.

Ordinary Heroes


Agents of Rittenhouse promise a 2nd super set for S.H.I.E.L.D. fanatics.

Non-Sport University: The Cherry on Top


Learn how to put that all-important finishing touch on your collection.