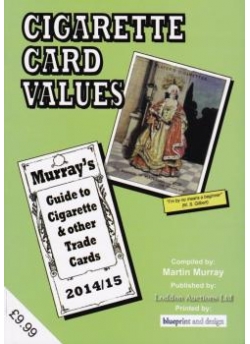 Cigarette Card Values 2014/2015
Cigarette Card Values 2014/2015
This invaluable guide, compiled by Martin Murray, is a must have reference book for collectors, dealers, auctioneers, and all those interested in the subject. The book is divided into three parts:
1) All known issues by British-based tobacco companies.
2) Issues from Overseas tobacco manufacturers.
3) Trade cards from manufacturers such as Topps, A. & B.C., Brooke Bond & Co. LTD, and other cards issued with items other than tobacco. All prices are listed in Pound Sterling.