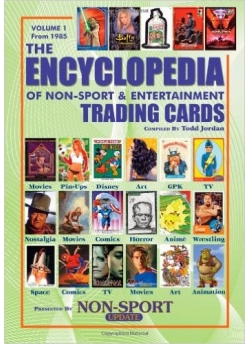 The Encyclopedia of Non-Sport & Entertainment Trading Cards Volume 1, 1985-2006
Regular Price: $34.95
Price: $10.49
You Save 70%
The Encyclopedia of Non-Sport & Entertainment Trading Cards Volume 1, 1985-2006
The Encyclopedia of Non-Sport & Entertainment Trading Cards Volume 1 covers cards from 1985 to 2006.
This 528-page book is printed in full color.
Its the book collectors have been waiting for! Inside are descriptions, price guide values, and checklists for more then 1,700 card series including base, chase (sketch, autographs, memorabilia, holograms, prism, stickers, etc.) and promo cards.
The book contains nearly 2,000 color images of cards from the two decades covered. There are also 3 extensive indexes included listing artists, sketch card artists, and autographers with the series they appear in. Two pictorial galleries show a variety of sketch and autograph cards. This is a must-have reference book for all collectors.
Click on the book cover above to see a larger version. See special 'Encyclopedia' page here.