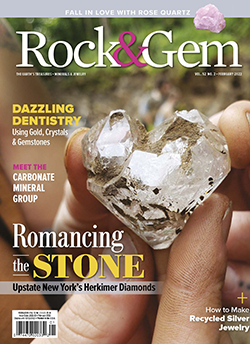 Expert insights on lapidary techniques.
Topics on the science of minerals, and faceting.
Short and interesting articles, projects and puzzles for kids.
The go-to source for field trip destinations.
Guide to in-depth examinations of minerals and gem materials.
Rock & Gem February 2022
Since 1971, Rock & Gem has been the leading magazine for the lapidary and mineral hobbyist. Not a trade journal and not a scientific dissertation, it speaks to the average rockhound, providing just the right blend of entertainment and satisfying information. Armchair hobbyists and diehard diggers alike will find something to enjoy in each issue.
Lifetime hobbyist and Carnegie Award winner Bob Jones heads up a group of experienced and knowledgeable contributors. Bob's light-hearted style brings readability to in-depth articles on minerals, classic deposits, and collecting trends. His Frugal Collector series helps collectors learn to identify mineral bargains, and his affiliation with the Tucson Gem & Mineral Society provides a behind-the-scenes look at the year's biggest and best mineral show and sneak previews of the show's theme and featured exhibits.
Field trip writers like Robert Beard ferret out the collecting spots that deliver the goods and give you clear directions to an enjoyable outing. Field trips range from day-long family-friendly outings to extended-stay adventures in the great American wilderness
Not sure what to do with the gems from your last field trip? Step-by-step projects for lapidaries of all skill levels will soon have you tumbling, polishing, faceting, and making jewelry like a pro.
Regular columnists William A. Kappele, Steve Voynick, and Jim Perkins share their insights on lapidary techniques, the science of minerals, and faceting.
We know that our youth are the key to continued growth in the hobby. Our monthly children's feature, Rock & Gem Kids, is designed to appeal to a younger generation with short, interest-catching articles, kid-sized projects, puzzles, and a chance to win a prize.