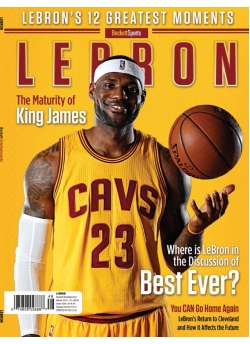 Beckett Sports Presents. . . LEBRON
128-page magazine built around the amazing LeBron James
Best Ever – Where is LeBron in the discussion?
What Lebron's return to Cleveland means for the Cavs, the NBA and all of Ohio
King James' greatest moments
Regular Price: $9.99
Price: $5.99
You Save 40%
With three NBA Championship rings, four Most Valuable Player awards and more than 15 million Twitter followers to his name, it's easy to see why LeBron James is among the most popular athletes on the planet. As the premier player on the court, LeBron also carries the highest profile off it. He's a marketer's dream, and his "King James" nickname seems perfect because everything he touches seems to turn to gold.

Beckett Sports' LEBRON is a 128-page magazine built around the career – thus far – of one of the NBA's greatest ever. From appearing on the cover of Sports Illustrated while still in high school
to his return to Cleveland.