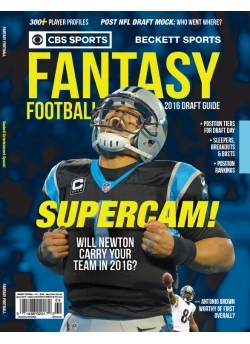 BECKETT FANTASY FOOTBALL - 1 2016
Regular Price: $7.99
Price: $4.39
You Save 45%
BECKETT FANTASY FOOTBALL - 1 2016
Fantasy Football drafts may be a few months away, but it's never too early to begin preparing for your draft and thinking about your strategy. The CBS SPORTS/Beckett Sports FANTASY FOOTBALL 2016 Draft Guide provides all you will need to enter your draft with confidence and knowledge. Written by the Fantasy Football experts at CBS Sports and published by Beckett, the guide will include:
• Player Rankings – By Position and a Top 200 Overall List
• Individual Player Outlooks
• Rookies to consider
• Breakout players to target
• Sleepers to consider
• A 12-Team Mock Draft – see how it plays out
• Positional Tiers – Player tiers built for each position
• Outlooks for each NFL team
• So much more!
Get ahead of the competition with the only 2016 Fantasy Foot-ball guide you will ever need!